Print | E-mail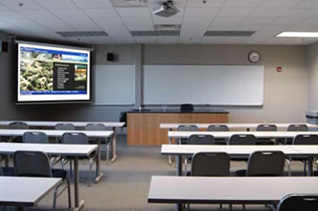 For small private colleges with big dreams, taking that first unfamiliar step into the world of audio/visual technology can be a leap of faith. At Trinity Christian College in Palos Heights, Illinois, that leap came with the construction of a brand new building, the Heritage Science Center, in 2002. Although computers have been a staple on the campus for years, science instructors were still sharing roll-around audio-visual carts as they taught in two science labs on the second floor of the classroom building. With the construction of the new $8 million science center and some timely intervention by the people at Media Resources, students now enjoy a sleek, modern, technologically-smooth environment that puts everything they need at their fingertips.
Although the Heritage Center's original plans included a/v systems, no one worked out the necessary details before construction started. The building was two thirds complete by the time Brian Maksa of Media Resources and his people stepped in to help. Maksa, a Trinity Christian alum, has been in the a/v business for 15 years and could offer the expertise the project needed to pull things together in just two months time.
"We were the system integrator," said Maksa, "but we also became their system designer. We tried to follow the original design as best we could, but that can be a challenging task when walls are already up and floors are done." Adding audio/visual equipment is not as easy as adding information technology.
IT and A/V not the same
"The way it works with IT," says Maksa, "is that everything is a home run to the IT closet. To build a network, you put a hub in the building and then wire everything back to the hub." With a/v, however, unless you have system-wide central controls, each room's setup works independently. At Trinity Christian College, Maksa had to plan conduit runs, cabling and projector mounts for each individual classroom.
Each of the classroom systems includes a ceiling-mounted Sanyo LCD projector, a wall screen and a teaching console that holds a VCR, a/v receiver, dedicated laptop and auxiliary a/v and computer connections. Maksa says he included the a/v receiver instead of a switcher as an inexpensive way to rout video and audio signals and keep the amplifier, tuner and inputs all in one box. The system allows the use of DVD players, video cameras or other outside sources, giving instructors a great deal of versatility as they plan their lessons. A document camera is available on an as-needed basis.
Always available
Dr. Craig Luehr, Associate Professor of Chemistry at Trinity, says things have definitely changed. A year ago there was only one teaching lab for all of chemistry and even getting a monitor or VCR was an "iffy" thing. "There's nothing like asking for somebody to roll in the a/v, and then walking in to find out it's not there. You have no clue where it might be." Now, with the new systems, instructors can simply access their own files on the dedicated laptop, turn on the projector and begin their classes. "We've had a lot of students make their own presentations, too, and we're no longer confined to the information a floppy disk can hold."
Dr. Luehr says he still hasn't used the classroom technology as much as he would like, but he plans to spend the summer finding more animations for his lessons, now that the system can handle them and is guaranteed to be there. With 15 to 20 instructors using the equipment, settings change, but Dr. Luehr says he has learned to get everything back the way he wants it with little difficulty.
Keep it simple
"At Trinity Christian, the instructors are there to teach the sciences, not to fiddle with a confusing a/v system," says Maksa, who stresses the importance of keeping things simple and tailored to the expertise of the rooms' users.
"If you don't put in a control system, be careful how sophisticated you make the room," says Maksa. A control system could turn on the equipment, automatically lower the screen and the lights, turn on the projector and guide you through source selection. In the case of Trinity Christian College, like many other privately funded institutions, that type of automation would have been hard on the budget. So Maksa worked hard to make the rooms user friendly. Teachers can turn the projectors on with a simple remote, and a switcher in the teaching console allows them to choose sources easily. But they have to operate the lights and the wall switch manually. "It's pretty straightforward. It's a good start," says Maksa. "From where they were to this is a major step."
Mark Scott, Director of Computer Services at Trinity Christian, agrees the time had come for the college to move forward. "Up until a year and a half ago, we really didn't have any video projectors at all," says Scott. "This is something all colleges need if they want to become competitive. We're not where we want to be yet, but we're certainly further down the road."
Media Resources installed a/v systems in six classrooms, two computer labs and a large lecture hall in the Heritage Science Building. The lecture hall holds much of the same equipment as the classrooms, but Maksa included an audio system with wireless microphones, making it possible for lecturers to move around as they talk.
The construction of the science building was made possible by alumni donations, and its completion freed up space in the college classroom building. Media Resources has provided ceiling mounts and cabling in those classrooms, in anticipation of additional a/v installations in the future.
More to come
With several campus buildings undergoing renovations in recent years, Trinity Christian is looking to the future.
"This college is evolving," says Maksa. "Now you can walk into a classroom and know that the media is there whenever you need it." Although the a/v portion of the Heritage project was $60,000-a significant sum for Trinity Christian-the right audio/visual products can be powerful teaching tools. Maksa says any school looking to take that first step would be wise to first pinpoint what they want their classrooms to accomplish. An in-depth analysis of the needs and wants of the users is always the first step.
"Research the technology that's out there, and be aware that what you ask for now may change by the time you actually build it," advises Maksa. Finding the right a/v consultant and integrator can make all the difference to your project and to your pocketbook. Plan ahead, and don't let a $25 switch become a $300 retrofit.
Equipment list: Trinity Christian College
9 Sanyo PLC XU30 LCD Projectors
7 Chief RPA-7345 projector mounts with CMA-100 ceiling plates
9 Sony SLV-N51 VHS video recorders
9 Da-Lite 60″ x 80″ Model B Video Spectra wall screens
7 JVC RX558VBK audio/video control receivers
14 JBL Control 25 wall speakers
9 Extron P2DA2 VGA distribution amplifiers
Middle Atlantic racking equipment