Print | E-mail
Information is Crucial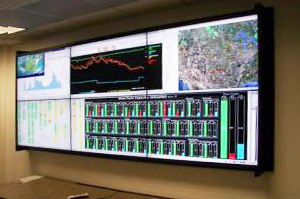 Exelon Wind, a newly created operation of the Exelon family of companies, needed to create a command center. It looked to Media Resources Inc. for design ideas and support all the way through installation.
Exelon Wind needed a way to monitor all of its Wind Turbines spread out across the Midwest. Details of wind speed, generation power, weather and trends were on the short list of must haves for the generation provider.
"My job was to provide a way to give them access to as much data as possible and display it so that instantly you have the information to make informed decisions" explains Brian Maksa of Media Resources of Lisle, Illinois who designed and oversaw the installation of the video wall in the Command Center at Exelon Wind.
"Projects like this are cool to look at and made even more satisfying when it meets or exceeds a client's expectations." Maksa remarked.
Video Wall Details
The wall itself is six Akira 46" LCD monitors arranged in a 2 x 3 format. The processor for the wall is a RGB Spectrum MW422 6/8 video wall processor. A RGB Spectrum BP16PW Ethernet controller provided access to the presets for the various display parameters needed to be recalled during system operation. The wall has four PC inputs and satellite HD signals as source material. A Crown amplifier and JBL speakers round the equipment for this installation.
The RGB Spectrum remote control allows for up to sixteen preset windowing configurations to be recalled instantly. These are provided at this location for changes in weather conditions, service dates and to provide detailing of information with the use of the on board software. The software allows for borders on images of various color and widths with labeling capabilities.
The feature is most useful for tour groups that can identify the components on the video wall more easily.
Equipment List: Exelon Wind Command and Control Center
6 Akira ALM46Z1 46" ultra slim bezel LCD panel
6 Akira ALM461SB wall mounts
RGB Spectrum MW422-6/8 video wall processor
RGB Spectrum BP16PW 16 button Ethernet preset selector
VFI AV-21U mobile equipment rack
Crown 180MA amplifier
(2) JBL Control 26CT ceiling speakers
Exhibit Marketing Partners custom video wall frame
Extron DVI distribution amplifiers
Middle Atlantic PD915 rack power distribution
Tripp Lite KVM switch VU4-R