Print | E-mail
Following the Chairman's Lead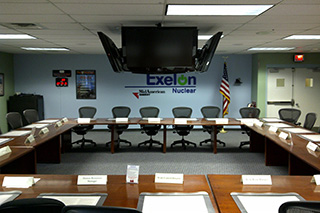 Exelon Quad Cities Station, in keeping with the Company's Chairman's resolve to be more efficient and green, enlisted Media Resources to upgrade its main Room 215 at the nuclear power plant. Meetings are scheduled almost around the clock at the plant. Many documents or "Plan of the Day" handouts had been provided to each of the participants for review. This created mounds of paper and required many resources beyond that of paper consumption.
Brian Maksa of Media Resources was asked to provide system that might help alleviate the problem.
The goal was to provide a way to convey the daily plan without the mounds of paper for each participant and eliminate many hours of preparation for the daily meeting.
System Operation
The conference room consists of four LCD monitors displayed in a four sided scoreboard setting. These are used for both presentation and videoconference modes. A fifth monitor provides the view of the far end camera if needed. The room can display various PCs located within the room, access to wireless VGA for laptop connectivity, audio conference via Clearone 840T, HD videoconference using the Tandberg 3000 integrator codec with two HD cameras. The system is controlled via an AMX control system. The touch panel is an eight point four inch unit that is wall mounted in a docking station that serves as a charger for the wireless touch panel when docked.
The control system is accessible via the company's IT Intranet to allow staff to access control of the audio video system for support of meetings and web browser access allows for a back up control in case the touch panel is inoperable.
Equipment List: Exelon Quad Cities Nuclear Plant

Tandberg HD camera (2)
Shure MX395-0 omni button microphones (4)
Shure SLX24/SM58 wireless microphone
LG 52LG50DC 50" LCD display
LG 42LG30DC 42" LCD display (4)
AMX NI-3100 controller
AMX MVP-8400 touch panel with wall docking station

Avocent LV3500W wireless VGA/li>
Clearone 840T audio processor
Extron 88HVA crosspoint matrix switcher
Extron IN1502 RGB scalers (2)
TOA A906MK2 mixer amplifier
JBL Control 26CT ceiling speakers
Middle Atlantic equipment rack